When it comes to successful online marketing, there are some tried and true methods that digital marketing professionals always use. Many of these techniques you can do on your own with a little bit of studying and the investment of time. Here are the top ten steps for a successful online marketing strategy. 
Develop your brand
Even before you launch your business online, you should already have your brand vision, brand colors, brand fonts and brand messaging set in stone. If you don't, you can outsource branding design to a professional digital marketing company. Then use the branding guidelines booklet they provide to inform all of the online marketing design and content decisions. 
Create a plan
The next step for successful online marketing is to create a strategic plan. This plan will include your course of action – what social media channels you will use and how you will engage with clients online. You will also need to think about whether you will outsource your online marketing or do it all in house. Finally, this will include your online marketing calendar, whereby you will outline exactly what day what content will be posted, where and by whom. 
Study your competition
This is essential to succeed in online marketing. You need to know first, who your competitors are, and second, how they are marketing themselves online. For example, if everyone in your industry is active on Facebook but no other social media platform, you can probably conclude that your target audience spends more of their time on Facebook too. This would be a great place for you to start social media marketing. 
Design and develop a professionally branded website
In today's marketplace, for your business to be successful, you need to have a website. While we highly recommend a professionally built website, we understand that is not always achievable. If a professional website is not in the budget, just start with something small on a free hosting site and as your sales increase so can your investment in your website. Ultimately, all of your online marketing will drive clients to your website landing pages, which then will generate leads, and hopefully, translate into sales.  
Complete SEO for your website
This is an essential step for successful online marketing and is the primary way in which you can get people who you would otherwise not be in contact with to see your website. SEO will also increase your ranking on Google search engines and you will begin to notice how instantly your brand and website become visible.  
Create and manage social media
First, determine what social media platforms to engage with. This is important – if your demographic are teenagers, you need to be on TikTok, if its millennials, get on Instagram, if its older adults, focus on Facebook. Then set up a social media strategy, calendar and execution plan. There are numerous online tools that can help you with regular posting, but if this feels too arduous, you can easily outsource this digital marketing to companies like ours at Skyfall Blue. 
Set up social media ads
Facebook and Instagram ads are so much more powerful than you can ever imagine. Everyday you see ads across your social media platforms, but you may not even notice them pop up day after day. However, there they are, subconsciously informing every business decision you make. After a viewer sees your business mentioned 3 times, they start to get really curious, and this is why having ads that pop up all the time are essential.  
Develop an e-mail list
This is an important step for successful online marketing that starts in the development of your website. Be sure to include an option on your website to sign up for your mailing list. This will give you access to your clients e-mail address which is the most valuable currency in online marketing.  
Send a regular newsletter
Now that you have collected potential clients and lead email addresses, it is time to close the deal. Bi-weekly, monthly or quarterly newsletters can serve as a medium through which you can not only promote your business, announce flash sales and educate your consumers, but it is also a great time to celebrate successes, advertise events and highlight great customers.  
Analyze website data and social media metrics
The last, and for many, more arduous task, is to sit down with a nice cup of coffee and review your website and social media stats. To really succeed online, this step for successful online marketing is imperative. This is how you learn if what you are doing is working (or not) and then you can make informed changes to your online marketing strategy.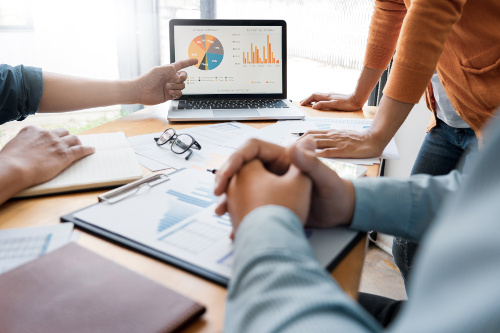 In conclusion, these are the top 10 steps for successful online marketing that the leading professionals in digital marketing use with every single client. If you aren't already taking these steps then we highly recommend starting right now. If this feels overwhelming, contact our team to learn how we can help take the load off.  
Are you concerned about your online marketing strategy for your business? Would you like to improve your online marketing plan? Contact Skyfall Blue today to get a FREE evaluation of your website performance and marketing!